In four short months (September 2012), my daughter, Betsy, is getting married! I am going to be creating custom jewelry and accessories for my daughter, as well as the bridesmaids. Tomorrow, we are off to start choosing beads, wire, fiber, and finalizing designs! As we go along from design through completion, I am hoping to post occasional blog entries showing the creative process in action.
Just to give you an idea of our starting point. Betsy's dress is ivory with beautiful beading and embroidery. I'm not going to post a picture until after the wedding -- no spoilers. However, I thought it would be appropriate to post a photo of a small section of the dress.
The focal colors for the wedding are plum and clover. The bridesmaids will wear plum.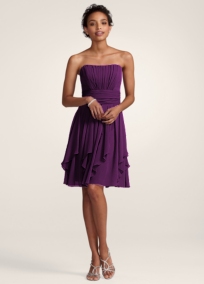 The junior bridesmaids' and flower girl's dresses will be clover with a plum sash. The dress below is not the exact dress the girls are wearing, but it's close, and the color is correct.
So tomorrow, it's off we go to start exploring and finding the elements for what will hopefully turn out to be a beautiful accents to a beautiful day!